Hills, Inc. has a wide array of equipment and expertise in melt spinning of fibers and can conduct trials for you on a per diem basis. Types of spinning include:
Nonwovens (1/2 meter wide line)
Spunbond
Bicomponent Spunbond
Meltblown
Bicomponent Meltblown
Meltblown Nanofibers
Spunbond spinning process development using 5" wide spin pack (sans forming and takeup)
Smooth roll calendering
Engraved roll calendering
Filament
Filament Yarns
Staple Yarns
UOY Yarns
POY Yarns
FDY Yarn
BCF
Bicomponent Yarns as above
Tricomponent Yarns as above
Monofilaments
We have literally hundreds of cross sections available (many available on the nonwoven line) including Sheath/Core, Side by Side, Shaped Filaments, Segmented Pie in solid and hollow, Islands in Sea, Concentric Rings, and many more. We have polymer drying and testing equipment as well as some of the most experienced and innovative fiber spinning technicians and engineers in the world.
NanoMeltblown (1 meter wide line)
1.0 meter wide good fabric (1.2 meter wide untrimmed)
supplied on 10 gsm area bonded Pa 6-6 substrate (Cerex®), customer's substrate or no substrate
200 - 2000 nanometer (0.20 - 2 microns) average fiber diameter available
Almost any meltblown grade polymer up to 300 deg C spinning temperature can be run - 0.25 - 14 gsm
Since this line is cost prohibitive to run for small lots, Hills is offering to sell small quantities of standard samples on a $ / meter basis. Contact Hills for current $/meter pricing at jhaggard@hillsinc.net
Hills' Standard NanoMeltblown Fabric Sample Specifications:
supplied on 10 gsm area bonded Pa 6-6 substrate (Cerex)
400 nanometer average fiber diameter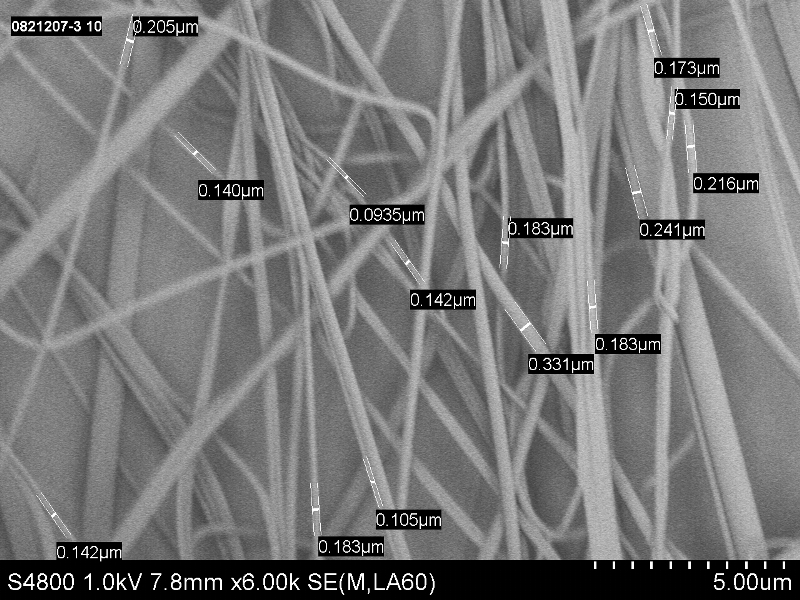 | | |
| --- | --- |
| Standard samples | Minimum order |
| 14 gsm PP | 50 meters |
| 3.1 gsm PP | 100 meters |
| 2 gsm PP | 150 meters |
| 1 gsm PP | 200 meters |
Custom NanoMeltblown Fabrics Samples
PP basis weight between 0.25 and 14 gsm – Minimum order 500 meters
PP NanoMeltblown 0.25 – 14 gsm applied to your substrate - Minimum quantity 500 meters

Note: Your substrate must be very porous to insure good NanoMeltblown fabric quality. Customer substrates will be tested and approved before production.

Other meltblown grade polymers up to 300 deg C extrusion temperature – Minimum order $10,000.00
Fiber size average between 200 nanometers and 2 microns – Minimum order $3,000.00
Small Lot Polymer Sales
We keep a wide array of polymers in our inventory and can sell small lots. There are some polymers we always have in stock and some that are available on a lot by lot basis. This also includes color master batches and certain additives.
Contact us to discuss your needs. We are enthusiastic about helping you with your project.
Tony De La Hoz
Director of Global Process and Product Development
Hills, Inc.
tdelahoz@hillsinc.net